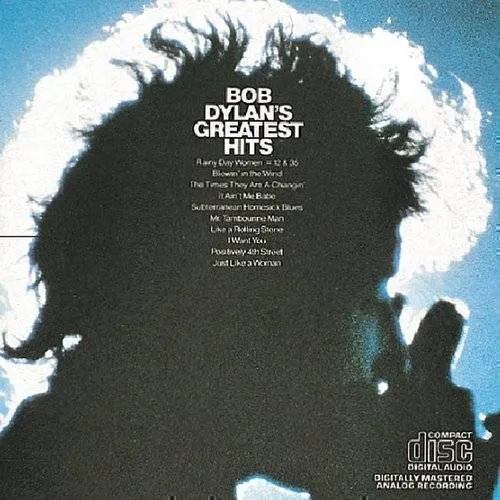 Details

Format: CD
Label: COLUMBIA
Rel. Date: 10/25/1990
UPC:

074640946325
Formats and Editions
Reviews:
''Bob Dylan's Greatest Hits'' is the eighth album released by Bob Dylan on Columbia Records, catalogue CK 65975. It peaked at #10 on the Pop Album Chart, and went to #3 in the United Kingdom; certified five times platinum in the United States, it is one of his very best-selling albums.
''Greatest Hits'' presented his first appearance on records after his epic ''Blonde on Blonde'' double-LP of May 1966 and his famed motorcycle accident of that summer. With no activity by Dylan since the end of his recent world tour, and no new recordings on the immediate horizon (the ''Basement Tapes'' sessions were still months away if the accepted chronologies are correct), Columbia needed new product to continue to capitalize on Dylan's commercial appeal. Hence the appearance of this package, the label's first Dylan compilation, and its first LP release with a $5.98 list price, one dollar more than that of standard releases.
This album also serves as Dylan's ''de facto'' singles collection for the 1960s, as all but three of the tracks present, "The Times They Are a-Changin'," "It Ain't Me Babe," and "Mr. Tambourine Man" had been issued at 45 rpm in the United States during the decade, although "Times" made it to #9 as a single release in the UK. A truncated rock and roll version of "Mr. Tambourine Man" had been a number one hit for The Byrds in the summer of 1965, the Turtles took a folk-rock version of "It Ain't Me Babe" to #8 the same year, and Peter, Paul and Mary enjoyed a huge hit with their #2 single of "Blowin' in the Wind" in 1963. The remaining six tracks all made the ''Billboard'' Top 40 in 1965 and 1966. Probably the most astounding thing of all concerning this collection is that it documents a time in America when this kind of lyric complexity and philosophic bent could actually become a top ten pop chart hit, "Like a Rolling Stone" and "Rainy Day Women #12 & 35" both going to #2 and "Positively 4th Street" going to #7. The latter track, incidentally, was the only single of the collection not later released on or taken off an album, having been recorded during sessions for ''Highway 61 Revisited''.
The cover photograph of ''Bob Dylan's Greatest Hits'' was taken by Rowland Scherman at Dylan's November 28, 1965, concert in Washington, D.C. The cover won the 1967 Grammy award for "Best Album Cover, Photography." The original album package also included Milton Glaser's now-familiar "psychedelic" poster depicting Dylan. Though Dylan had been quoted as disliking the cover image, a similar image - taken at the Concert for Bangladesh in 1971 - was selected for Bob Dylan's Greatest Hits Vol. II, a compilation Dylan had much more control over. John Berg, Senior Art Director at Columbia Records, should be noted here as the man who recognized that a backlit image such as Scherman's would work because of Dylan's unique sartorial style. It was his design, as well as Scherman's photo—that won the Grammy.
When this album was remastered for its 1997 rerelease 30 years later, a slightly longer alternate mix of "Positively 4th Street" was substituted for the original single version.
In 2003, this album was released along with Dylan's two other Greatest Hits compilations in one four-disc set, as ''Greatest Hits Volumes I-III''. - Wikipedia
back to top