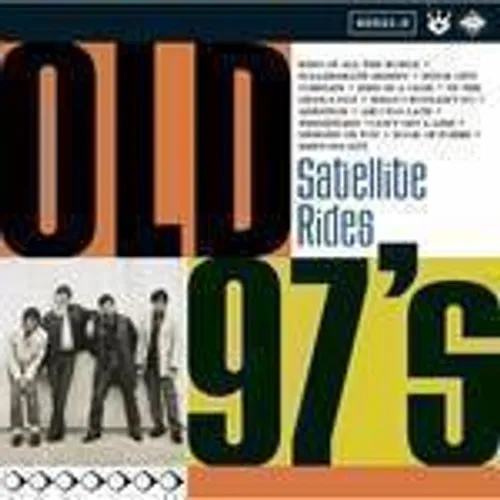 Details

Format: CD
Label: Wea2
Catalog: 62531
Rel. Date: 03/20/2001
UPC:

075596253123
Formats and Editions
Reviews:
''Satellite Rides'' is the fifth studio album by American country/rock band Old 97's, first released in the second quarter of 2001 (see 2001 in music). Though track 9 "Weightless" references outerspace while the chorus croons "ride on, ride on" to an unspecified audience, the album's title does not appear in the lyrics but was later used for the song "In The Satellite Rides A Star" on the band's followup album, 2004's ''Drag It Up''.
Satellite Rides is much criticized by fans as a pop album at odds with the band's roots in country-influenced rock. This has more to do with the production of the sound than the songwriting, as many of the songs are quite popular, in more rocking form, in live shows.
Lyrically, the songs see Rhett Miller writing about characters other than himself, albeit personal references remain. "Rollerskate skinny" refers to Holden Caulfield's description of his sister in J. D. Salinger's seminal novel, ''The Catcher in the Rye'', while "Buick City Complex" refers to workers affected by General Motors' decision to close its failed mega-factory in Flint, Michigan. Miller wrote the song "Am I Too Late" for his grandmother, Ahnece Pugh. Miller re-recorded "Question" and "Singular Girl" with a full band for his 2006 solo album, ''The Believer''. The album features two songs sung by bassist Murry Hammond, "Up The Devil's Pay" and "Can't Get A Line".
Satellite Rides is also a pseudonym that the band plays shows under including a show at the Tractor Tavern in Seattle Washington on August 31st, 2008.
The song "Question" was recently used in a commercial for Fuse TV network in the United States. It featured sock puppets.
The song "Question" was also used in season 2 episode 15, "His Story" of "Scrubs", when Turk proposes to Carla. Originally aired January 16, 2003. - Wikipedia
back to top