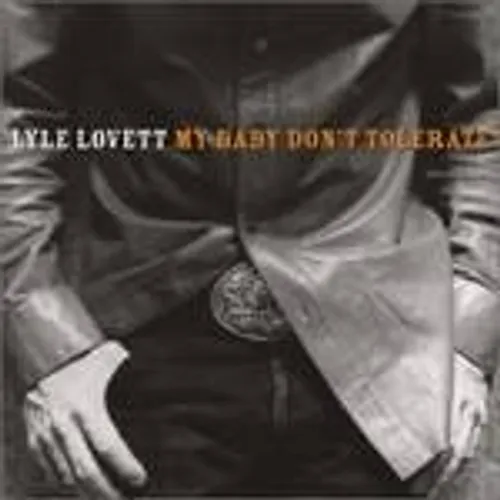 Details

Format: CD
Label: Umgd/Lost Highway
Catalog: 116202
Rel. Date: 09/30/2003
UPC:

602498608333
My Baby Don't Tolerate
Artist:
Lyle Lovett
Format:
CD
New:
IN STOCK!
Used:
IN STOCK!
Wish
Formats and Editions
Reviews:
''My Baby Don't Tolerate'' is the name of an album recorded by Lyle Lovett and released in 2003.
On ''Tolerate'', Lovett favors his country side a bit more than his many other facets. While long-time fans were reportedly disappointed with the album's pop-flavored opening track ''Cute as a Bug'', many of the other songs demonstrated his strengths as a storyteller. Oddly, the album ends with two gospel songs with remarkably similar names, which some critics decried as an overly precious attempt at enforced quirkiness. Nonetheless, ''Tolerate'' garnered very positive responses and respectable sales figures. - Wikipedia
Is Lyle Lovett suffering from writer's block? It's been seven years since Lyle Lovett last released an album of new tunes, and while most of the material here is new, two of them-"The Truck Song" and "San Antonio Girl"-first appeared on Lovett's "Cowboy Man" anthology two years ago. But let's leave the speculations about Lovett's mental state to the tabloids. On the surface, My Baby Don't Tolerate is the most country album Lovett's cut in years, but it's country Lovett style, well marked by his eclectic musicality and skewed sense of humor. The title tune is an ode to the joys of a long term relationship that takes the clichout being a "hen pecked" husband that are so rife in country, blues and rock'n'roll and turns them inside out, "Nothing But a Good Ride" is a trucker song, but instead of celebrating the joys of the open road its drenched in the loneliness and melancholy of a man with nowhere to go but the next mile on the road, while "Cute as a Bug" is a more typical car song, a honky tonk rocker with a twang soaked guitar solo by long time associate Dean Parks that tells the story of a guy obsessed with the pretty face of a woman he saw driving past in her VW bug. The album closes on an inspirational note with "I'm Going to Wait" and "I'm Going to the Place" a pair of gospel rave ups driven by the sanctified piano of Matt Rollings and a full choir.
back to top