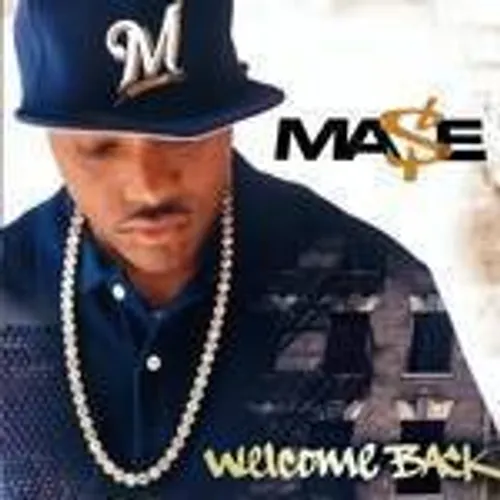 Details

Format: CD
Label: BAD BOY
Catalog: 306302
Rel. Date: 08/24/2004
UPC:

602498631225
Formats and Editions
Reviews:
''Welcome Back'' is the third studio album by Harlem rapper Mase, released August 24, 2004. The album debuted at #4 on the charts, selling 188,000 copies in the first week; the album would eventually go gold, selling 559,000 copies in the United States. - Wikipedia
"After swiping a Chuck Mangione song title and keeping the shiny fabrics industry afloat between 1997 and 1999, Mason Betha broke with the rap game, citing irreconcilable differences along the lines of sex and commerce. Now he's back, and it's Reverend Ma$e to you. On the video set for his easy rolling first single (the title track here) he told the ladies to lengthen their shorts before the eyes of God: ""only these cheeks,"" points to face, cue cheesy Colgate grin. What smacks you upside the head like a can of corn is how clean
Welcome Back
is. It's a throwback to the late '80s pop-rap, like the Fresh Prince and Young MC, which supposedly made the genre ""safe."" Although Ma$e is apparently not above worldly possessions (""I had bling before you ever seen me talk""), there's virtually no violence or misogyny. The not-quite-feminist but still pretty moral ""Keep It On"" is some mutant version of Jermaine Stewart's ""We Don't Have to Take Our Clothes Off."" (Madonna's ""La Isla Bonita"" shows up in the next track.) The beats are mostly the current preset cyber-acoustic-soul-flamenco-handclap stuff, with the shining exception of ""Money Comes and Goes,"" which sounds like offcuts from the incidental music to a Sherwood Schwartz sitcom. ""Do You Remember"" is all low-riding ""Murder She Wrote"" bass with rattling sleigh bells, Children's Television Workshop xylophones, and the best flow I've ever heard from the Rev.
Welcome Back
probably won't win over too many Lil Jon car-crash fans, but unless you're a Marxist, it's probably the first rap album this decade you can buy for your kid without worrying."
back to top