* Bonus tracks are exclusive to the first pressings of CDs and Vinyl

Featuring writing and lead vocal contributions from all four members, The Jayhawks' extraordinary new album, XOXO, is the most diverse and wide-ranging in the group's storied history. Rather than marking a sonic departure, though, the collection signals a sharpening of focus for the band, an elevation in understanding of who they are and what they do best. In classic Jayhawks fashion, the songs here mix the influence of American roots music with British invasion and jangly power-pop, but there's a newfound vitality at play, as well, an invigoration of confidence and energy that could only come with the injection of fresh blood. The result is an album that, much like the band's lush harmonies, brings multiple distinctive voices together into a singular whole, a collection that, ironically enough, finds unity in individuality and identity in reinvention.

"This album feels like a new lease on life for us," explains Louris. "I don't know what the future holds, but this band is full of great songwriters who deserve to be heard, and my only regret is that we didn't do something like this sooner."
* Bonus tracks are exclusive to the first pressings of CDs and Vinyl

Featuring writing and lead vocal contributions from all four members, The Jayhawks' extraordinary new album, XOXO, is the most diverse and wide-ranging in the group's storied history. Rather than marking a sonic departure, though, the collection signals a sharpening of focus for the band, an elevation in understanding of who they are and what they do best. In classic Jayhawks fashion, the songs here mix the influence of American roots music with British invasion and jangly power-pop, but there's a newfound vitality at play, as well, an invigoration of confidence and energy that could only come with the injection of fresh blood. The result is an album that, much like the band's lush harmonies, brings multiple distinctive voices together into a singular whole, a collection that, ironically enough, finds unity in individuality and identity in reinvention.

"This album feels like a new lease on life for us," explains Louris. "I don't know what the future holds, but this band is full of great songwriters who deserve to be heard, and my only regret is that we didn't do something like this sooner."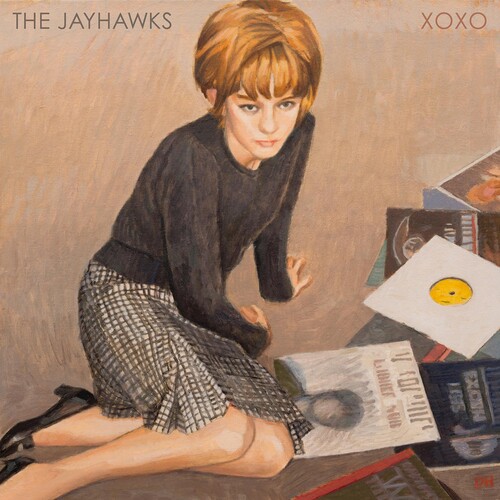 Details

Format: CD
Label: SHHA
Rel. Date: 07/10/2020
UPC:

644216966295
Formats and Editions
1. This Forgotten Town
2. Dogtown Day
3. Living In A Bubble
4. Ruby
5. Homecoming
6. Society Pages
7. Illuminate
8. Bitter Pill
9. Across My Field
10. Little Victories
11. Down To The Farm
12. Looking Up Your Number
13. Jewel of the Trimbelle (BONUS)
14. When You Walked Away (BONUS)
15. Hypocrite's Lament (BONUS)
More Info:
* Bonus tracks are exclusive to the first pressings of CDs and Vinyl

Featuring writing and lead vocal contributions from all four members, The Jayhawks' extraordinary new album, XOXO, is the most diverse and wide-ranging in the group's storied history. Rather than marking a sonic departure, though, the collection signals a sharpening of focus for the band, an elevation in understanding of who they are and what they do best. In classic Jayhawks fashion, the songs here mix the influence of American roots music with British invasion and jangly power-pop, but there's a newfound vitality at play, as well, an invigoration of confidence and energy that could only come with the injection of fresh blood. The result is an album that, much like the band's lush harmonies, brings multiple distinctive voices together into a singular whole, a collection that, ironically enough, finds unity in individuality and identity in reinvention.

"This album feels like a new lease on life for us," explains Louris. "I don't know what the future holds, but this band is full of great songwriters who deserve to be heard, and my only regret is that we didn't do something like this sooner."
Reviews:
The Jayhawks first emerged from Minneapolis in the mid-1980's, though their commercial and critical breakthrough didn't arrive until the release of their 1992 masterpiece, Hollywood Town Hall. Over the ensuing decades, the band would go on to record a series of highly influential albums and tour the world countless times over, sharing stages with everyone from Bob Dylan and Tom Petty to Lucinda Williams and Wilco along the way. Following an extended hiatus in the mid-2000's, Louris and his long-time bandmates—bassist Marc Perlman, drummer Tim O'Reagan, and keyboardist Karen Grotberg—returned to the studio, most recently releasing the acclaimed Paging Mr. Proust and Back Roads and Abandoned Motels in 2016 and 2018, respectively.
back to top