Overwhelmed by sudden success, Nirvana promised to take a harsher, more abrasive route on their second major-label release. Enlisting Chicago-based noise maven Steve Albini (of Big Black fame), Kurt Cobain and company succeeded in producing a record that was violent, disillusioned, and deeply moving. Every song reads like a commentary on the cost of fame ("Serve the Servants") and the unhealthy relationship between performer and fan ("Milk It"). Of course, they might all simply be about Courtney Love. Gossip aside, there is no denying the sheer power of Cobain's songwriting, his singing, and the band's amazing, visceral power. Cobain even manages a John Lennon-like mantra at the end of the heart-wrenching "All Apologies." "All in all is all we are," he intones repeatedly, only for Cobain that's no consolation. --Percy Keegan
Overwhelmed by sudden success, Nirvana promised to take a harsher, more abrasive route on their second major-label release. Enlisting Chicago-based noise maven Steve Albini (of Big Black fame), Kurt Cobain and company succeeded in producing a record that was violent, disillusioned, and deeply moving. Every song reads like a commentary on the cost of fame ("Serve the Servants") and the unhealthy relationship between performer and fan ("Milk It"). Of course, they might all simply be about Courtney Love. Gossip aside, there is no denying the sheer power of Cobain's songwriting, his singing, and the band's amazing, visceral power. Cobain even manages a John Lennon-like mantra at the end of the heart-wrenching "All Apologies." "All in all is all we are," he intones repeatedly, only for Cobain that's no consolation. --Percy Keegan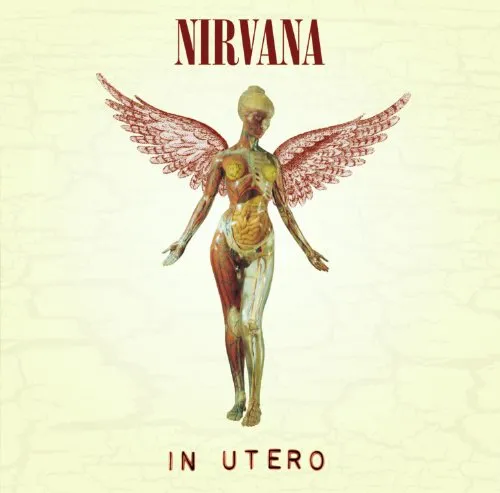 Details

Format: CD
Label: GEFFEN RECORDS
Catalog: 24607
Rel. Date: 09/21/1993
UPC:

720642460726
Formats and Editions
Details:
Explicit version


More Info:
Overwhelmed by sudden success, Nirvana promised to take a harsher, more abrasive route on their second major-label release. Enlisting Chicago-based noise maven Steve Albini (of Big Black fame), Kurt Cobain and company succeeded in producing a record that was violent, disillusioned, and deeply moving. Every song reads like a commentary on the cost of fame ("Serve the Servants") and the unhealthy relationship between performer and fan ("Milk It"). Of course, they might all simply be about Courtney Love. Gossip aside, there is no denying the sheer power of Cobain's songwriting, his singing, and the band's amazing, visceral power. Cobain even manages a John Lennon-like mantra at the end of the heart-wrenching "All Apologies." "All in all is all we are," he intones repeatedly, only for Cobain that's no consolation. --Percy Keegan
Reviews:
''In Utero'' is the third and final studio album by the American grunge band Nirvana, released on September 13, 1993, on DGC Records. Nirvana intended the record to diverge significantly from the polished production of its previous album, ''Nevermind'' (1991). To capture a more abrasive and natural sound, the group hired producer Steve Albini to record ''In Utero'' during a two-week period in February 1993 at Pachyderm Studio in Cannon Falls, Minnesota. The music was recorded quickly with few studio embellishments, and the song lyrics and album packaging incorporated medical imagery that conveyed frontman Kurt Cobain's outlook on his publicized personal life and his band's newfound fame.
Soon after recording was completed, rumors circulated in the press that DGC might not release the album in its original state, as the record label felt that the result was not commercially viable. Although Nirvana publicly denied the statements, the group was not fully satisfied with the sound Albini had captured. Albini declined to alter the album further, and ultimately the band hired Scott Litt to make minor changes to the album's sound and remix the singles "Heart-Shaped Box" and "All Apologies".
Upon release, ''In Utero'' entered the ''Billboard'' 200 chart at number one and received critical acclaim as a drastic departure from ''Nevermind''. The record has been certified five times platinum by the Recording Industry Association of America, and has sold over four million copies in the United States alone. - Wikipedia
back to top