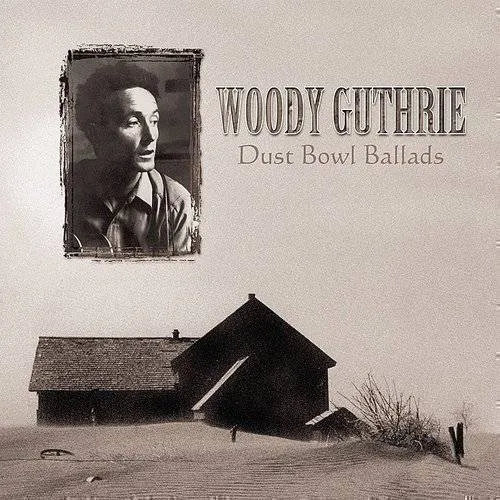 Details

Format: CD
Label: Buddha Records
Catalog: 99724
Rel. Date: 07/11/2000
UPC:

744659972423
Dust Bowl Ballads [Buddha]
Artist:
Woody Guthrie
Format:
CD
New:
IN STOCK!
Used:
IN STOCK!
Wish
Formats and Editions
Reviews:
''Dust Bowl Ballads'' is an album by Woody Guthrie, recorded for Victor Records during Guthrie's time in New York City in 1940. It was Guthrie's first commercial recording and the most successful album he made. It is sometimes considered the first concept album.
The ''Dust Bowl Ballads'' was originally released as two three-disc collections of 78 rpm records. Twelve sides, including the double-sided "Tom Joad", were included in this release, but two of the thirteen songs, "Pretty Boy Floyd" and "Dust Bowl Blues" were left out due to length. All tracks were recorded at RCA Victor studios in Camden, New Jersey on April 26, 1940, except "Dust Cain't Kill Me" and "Dust Pneumonia Blues" which were recorded on May 3. In 1964, during the American folk music revival of the 1950's and 1960's, a reissue including all tracks from the sessions was released in LP format by Folkways Records after RCA Warner refused Guthrie's request to re-issue the album. The complete ''Dust Bowl Ballads'' remains available on compact disc, audio cassette, and digital upload through the Smithsonian Institution's Folkways Collection.
The songs on "Dust Bowl Ballads" are semi-autobiographical, chronicling Guthrie's experience as a so-called "Okie" during the Dust Bowl era, where Guthrie witnessed the economic hardship that many migrant workers faced in California. Like many of Guthrie's later recordings, these songs contain an element of social activism, and would be an important influence on later musicians, including Pete Seeger, Bob Dylan and Bruce Springsteen. - Wikipedia
back to top